CHARTS


Evolving from the industrial chart production, our passion for precision expanded to medical paper, whose superior quality meets the highest OEMs' specifications to guarantee the smoothest operation on all recorders. They also conform with the European safety, health and environmental protection requirements and have been consequently awarded the CE marking. The European certification is consistent with Tecnocarta's quality management system, which has been certified according to the UNI EN ISO 13485 standard. Our assortment includes rolls, fanfolds and labels for all uses, from ECG, EEG and CTG to bloodbanks and laboratories, and nearly every existing recorder brand, from Schiller and HP/Philips to Marquette and Sonicaid.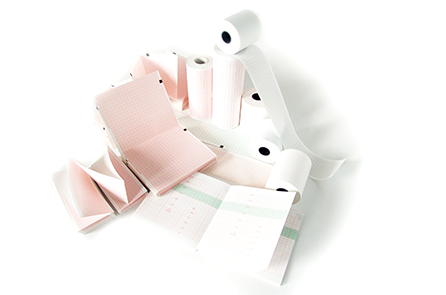 CATALOG
| CATEGORY | OEM | P. NO. | COMPATIBILITY | FORMAT & SIZE | OUR CODE |
| --- | --- | --- | --- | --- | --- |
Need a custom product?
If you are not just looking for standard, fill in the contact form or call us and we will shape your product together.